Tail-Wagging Gratitude for Fall 2020
In this section of the newsletter, we highlight a volunteer, donor, or organization for their outstanding support of Action for Animals Maine. First up, and most deserving of our appreciation is one of our volunteers, Brittany Reed. Brittany started working with us at the Dolphin Mini-Golf, BBQ, and Bottle Drive event. She can always be found at our table at the Boothbay Farmers' Market, where her friendly smile draws people to visit us.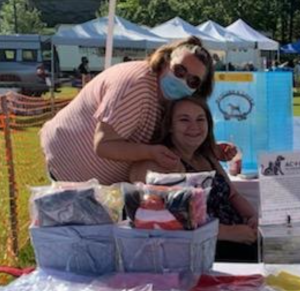 Brittany is the owner of Nova, a dog whose story appears in the "Yappy News" article in this newsletter. She says that volunteering is her way of expressing her gratitude to AFAM for saving her beloved pet's life, who is fine now and playing with abandon in the backyard. She hopes whatever fundraising she can do for AFAM will keep other pet owners from heartbreak.
When Brittany is not working for AFAM, she is busy singing in her dad's band, something she has done since she was five years old. She loves working with horses, being outdoors, riding four-wheelers, splitting wood, or just sitting by a fire pit. She always is willing to volunteer for worthy causes.
Her family's band has played for homeless veterans' shows and fundraisers for families that needed help over the years. It was a natural fit for her to help us with AFAM. Thank you, Brittany!