The Chit Chat Cat – Fall 2020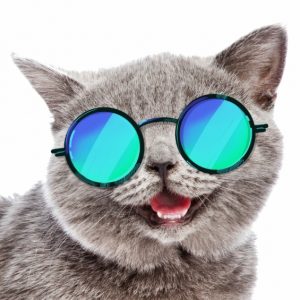 Our chit chat cat dishes on the news about our activities. You'll see why our organization starts with the word "Action!"
Action, Lights, Camera!
A live-action commercial is being filmed to promote Action for Animals Maine. Kasi Rankin, a skilled videographer, who holds a degree in Communications Technology from Husson University, shares his expertise to plan, organize, and film this commercial. We'll be using local sites for filming. Professional actors, musicians, and directors will be involved. We are enjoying this little touch of Hollywood in Boothbay Harbor.
Watch on November 1, 2020, to see the premiere of the commercial. We'll be announcing it on our Facebook page . The commercial will air on 16 channels, including The Travel Channel, SyFy, CNN, NECN, Golf, and BBC America.
Food Pantry Donations
Did you know that Action for Animals Maine collects and distributes pet food for those in need through local food pantries and direct delivery?
Over the past year, we have delivered 1,747 pounds of dog food to the Boothbay Food Pantry and 1,050 pounds of food to the Wiscasset Food Pantry. We have also provided over 1,000 pounds of dog food to individuals in need and 1,600 pounds of dog food for those for whom COVID-19 affected their ability to feed their pets.
Watch for our announcements on Facebook in the coming months. We plan to set up pet food distribution sites on specific days in various locations throughout Lincoln County. It takes a lot of power to move all this food around. We would welcome volunteer help with this process! Please contact us if you are interested in helping out.
Boothbay Farmer's Market
We have had a table at the Boothbay Farmers' Market on Thursdays on the Boothbay Common for most of the summer. You can find us there through October 8, 2020, the last day of the Farmers' Market. Besides "meet and greets" and spreading the word about our mission, we have a great variety of products for sale. We always are thrilled to get cash donations as well. We certainly will be returning next year!