The Cat's Meow – Fall 2020 Product Highlights
This section of the newsletter highlights products sold by Action for Animals Maine for our fundraising. We hope to inspire you with early Christmas shopping ideas. We always have a variety of products on display for sale when we are at live events. Most items can also be ordered online.
Pet Portraits
Photo Pet Portraits
Take a look at these adorable portraits of pets, rendered by artist Courtney Brewer. All she needs is a photo of your pet to get started.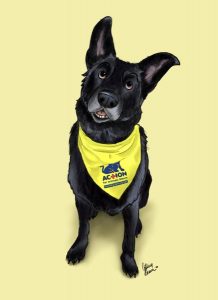 The cost is $30 for one pet and $45 for two pets. She'll send you a digital image of your pet. For an additional $5, we can send you an 8" X 10" print, suitable for framing.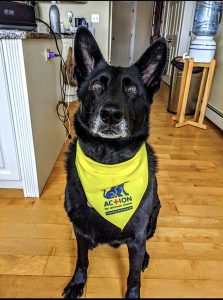 How to Order
Just go to our website. Click on the "donate" button and say "yes" to "Product Donation." Then, in the text field, indicate that you are purchasing a caricature of your pet. Then, send an e-mail to [email protected].
Attach the photo you want the artist to use. In the e-mail, please include your name and your pet's name so we can match it with your payment. It takes 48 hours upon receiving the request to email it back. If you want it printed and mailed, then allow for a couple more days.
Face Masks
Photo Face Masks
Everyone needs masks so why not support your favorite organization and get one of these. Our very own Lisa Smith does the artwork, applying a variety of designs. The suggested donation is $5. You can order a face mask through the Action for Animals website, using the "Donate" button. Check "Yes" for product donation and describe what you are purchasing.