Spotlight on Sponsors – Fall 2020
In every issue of this newsletter, we will acknowledge one of the many generous sponsors who support our organization. We decided that the Boothbay Animal Hospital should be the first sponsor to be recognized. Dr. Dean Domeyer was instrumental in helping us to get the organization started in 2019. He has been cheering us on since the inception of Action for Animals Maine.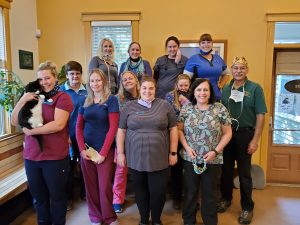 The veterinarians, office staff, veterinary technicians, and assistants are all to be commended for promoting our mission, ensuring every pet owner who faces financial difficulty covering emergency treatment for their pets has the opportunity to apply to Action for Animals Maine for assistance.
The Boothbay Animal Hospital has provided healthcare for local and seasonal visiting pets since 1975. We are fortunate to have such a compassionate, competent team in Lincoln County. They help over 5,800 pets per year and always take the time to ensure pet owners are comfortable with the proposed treatment. Tails wagging for all of you, and a big thank you!