Butterball Chronicles – Action for Animals Maine Newsletter – Volume 1, Fall 2020
Hi,
I'm Butterball, and I'm proud to be the inspiration behind my human mom's organization, Action for Animals Maine. You see, one day last summer, my mom, Giselle, took me to the specialty vet's office in Portland because I had cancer that needed treatment.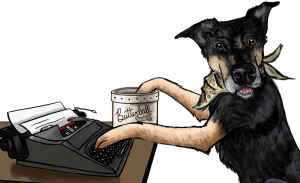 While she was waiting in line to check out and pay the bill, she watched a nice man in front of her start to cry when he realized he did not have enough money to cover treatment for his dog. He was told that he could put his dog "down" if treatment were not feasible. Somehow, I knew that that kind of "down" was not the kind that my mom says when my mom wants me to lay down and stay. My mom asked the man if she could help. She gave him the money he needed to save his dog.
That was the start of something big! She realized that there were probably many pet parents out there who were struggling financially and at risk of losing their pets because they could not afford expensive emergency vet treatment. That is when she started "Action for Animals Maine." She and her great volunteer friends have raised money and helped many pets in the last year and a half.
I have always been a "large and in charge" kind of guy, so I get to have this quarterly newsletter named after me. I recently crossed the Rainbow Bridge. I know I will be missed, but I can stay in touch by writing a column for this newsletter. You see, after I crossed the bridge, I was given a typewriter!
I hope you enjoy this first issue! There is a lot of news to share with you. We've had some great events this summer, even with the restrictions that led to our bigger events' cancellations.
We have some fun stuff coming up this fall! Look for AFAM around town! There are donation boxes and fundraising options everywhere!
Happy woofs to you,
Butterball
How to Contact My Humans
Website: actionforanimalsmaine.com
E-mail: [email protected]
Phone: 207-350-1312